Four-Wheels-Drive
Four-Wheels-Drive
Four Wheels, One Dream. Co-op with the other 4 wheels to deliver an expecting Lady to the Hospital
For GMTK Jam 2020. Theme: **Out of Control**
https://itch.io/jam/gmtk-2020/rate/693502
How to play
1. Go to https://vicksonzero.itch.io/four-wheels-drive
- If Web version has performance issue, you can download the PC version
2. Use **R/F** and **E/D** to control the left side
3. Use **U/J** and **I/K** to control the other side
4. Drive in opposite direction to brake!
5. It's a tank too, use opposite wheel directions to turn in place!
6. Find the hospital in this town!
Non-US keyboards you can still try play the PC version by remapping keys, but sorry about the UI
If you have friends but they cant come over, you can try https://parsecgaming.com/

Credits
3D Assets: Simple City Pack by CreativeMinds
BGM: Jazzy Frenshy by Benjamin Tissot (also known as Bensound)
Car Physics: https://github.com/coderDarren/Unity3D-Cars.git
Camera: cinemachine
Gameplay: Dickson (Me)
Playtesters
- jasonycw
- https://jacobexe.itch.io/

"Making of" Youtube Playlist
https://www.youtube.com/playlist?list=PLk6R1qNALlk8yYSeViCmThZR_Tou6meFd

Post-Jam Plans
- Wheel usage limit / difficulty with prolonged usage
- Key mapping / changing in-game
- More sandbox-like objectives / quest system / untitled goose game todo list
- May try to make flipping over even more fun
- Use mouse to grab power-ups
Comments
Log in with itch.io to leave a comment.

to easy
yay i've got a speedrunner!
by the end of december i will add some new objectives to the game, and perhaps change the map a little bit. stay tuned!
This game is absolutly bonkers. Our friend group is NOT good at working together...so it was a challenge but we made it to the end
We made a video :)
Thank you so much for making a video of my game. Hope you enjoyed
Um… so the car getting into space can be one of the side quest, to make it seem intentional...
btw the programming reason is that i try to make it easy to flip the car back by adding an upward thrust while smashing buttons. apparently if all 4 players smash buttons together, you get enough thrust to send it to space.
Anyways, glad to see you guys let the back seat be the drivers
🤣🤣 We will have to play more and find the side quest! As frustrating as it is for us to play this type of game together, it was definitely fun and unique! 😎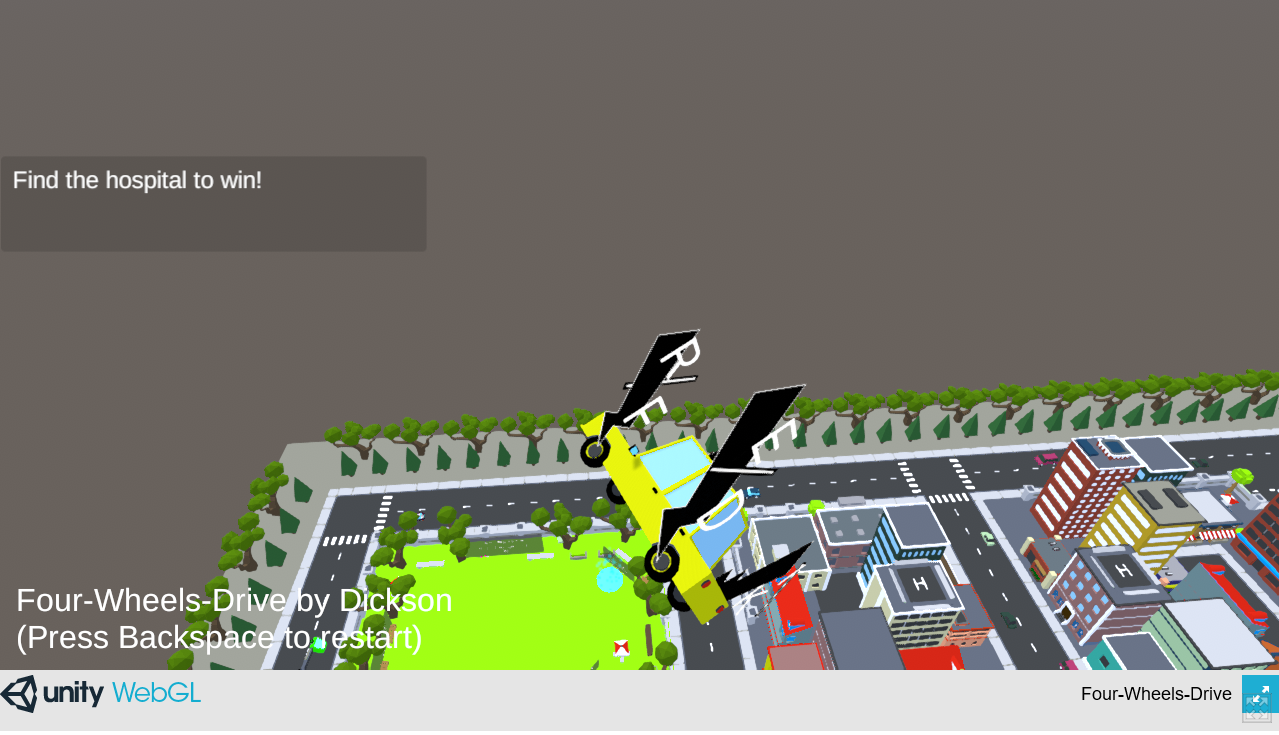 Unsure whether flight was supposed to be a feature, but it makes me happy

Nice idea. I think car could be a little faster, so gameplay could be more chaotic
i share your urge to make it more chaotic. i ll try to find a balance between chaos and noob-friendliness, may be through optional collectibles
I'm frustrated, i cant fall in the swimpool... :(
looks like i need to explicitly enable swimming pool otherwise i ll get a riot
I really liked the gameplay.